Rapidrop SMB Flexible Sprinkler Connection Receives CE Marking
Tuesday 10th October 2023
The innovative SMB Flexible Sprinkler Connection available from Rapidrop now carries a CE marking, which indicates its compliance with European safety and performance standards. 
Considered to be the product that launched the company, the Rapidrop Flexible was the first product we brought to market before we expanded into sprinkler heads and products dedicated to the fire suppression industry. Designed to enhance installation efficiency, the Flexible sprinkler pipe is particularly suited for use in suspended ceiling applications of both commercial and residential buildings.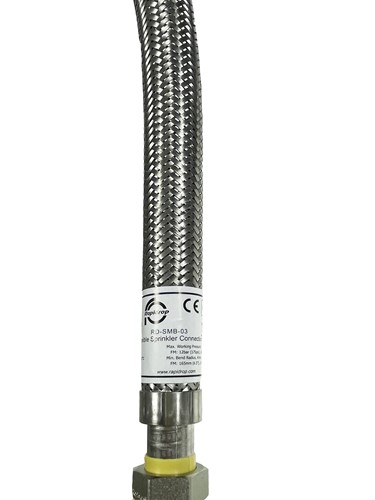 Traditionally, sprinklers installed in suspended ceilings require an arm over using rigid pipe connections which must be measured, cut, and threaded on site using trial and error techniques.  This process can be both time-consuming and expensive. The Rapidrop Flexible removes the need for cutting, threading, and precise measurements. It can easily be formed by hand connecting the sprinkler to the pipework quickly, even in restricted space or voids as small as 100mm (about the length of the long edge of a credit card).  
The Flexible connection has been approved by bodies including FM, LPCB, VDS and now the CE marking joins the ranks following certification received under the Construction Products Regulation. 
With the addition of the CE marking, Rapidrop's SMB Flexible Sprinkler Connection is a testament to our commitment to providing high-quality, innovative, and compliant fire protection solutions in buildings across the world. 
10/10/2023

The innovative SMB Flexible Sprinkler Connection available from Rapidrop now carries a CE …

27/09/2023

Meet Keith Plater, our Managing Director at Rapidrop Global Ltd has been part of Rapidrop …

22/09/2023

Meet our IFI Sales Director Martyn Curran. Joining the IFI team in the early days to suppo…

12/09/2023

James began his Rapidrop Global journey in our Scotland office 18 years ago before relocat…

05/09/2023

Joining IFI in the early days as a teenager, Jason has grown from strength to strength ove…