About Rapidrop
Our History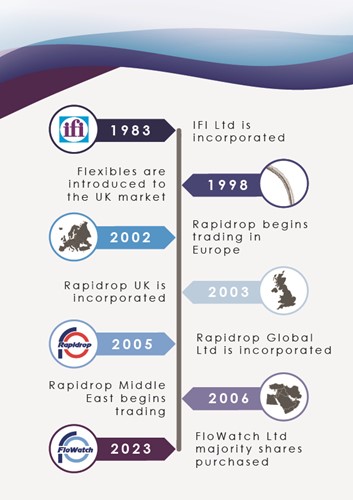 You can trace what is now Rapidrop Global Limited back to a number of companies in the1970's – and the company BERMIL.
Bermil Cables – was a wholesaler of electrical cabling throughout the UK and Southern Ireland
In the 1970's the supply of fasteners used in UK manufacturing was dominated by GKN. GKN were a West Midlands based engineering group which had acquired many bolt and nut, screw manufacturers and rivet producers across the West Midlands and merged them under the GKN Banner (Guest Keen and Nettlefolds). Well into the 1980's Nettlefolds was still the prominent branding across woodscrews.
AN EXTRACT FROM THEIR HISTORY PUBLISHED ONLINE:
Guest Keen and Nettlefolds expanded through the acquisition of many companies by 1948 its divisions were the Bolt & Nut Division in Darlaston and the Screw Division in Smethwick, Birmingham. In the late 1960s the Heath Street Works, Smethwick had grown to a 50-acre complex employing 4,500 people.
GKN's price lists were used by fastener distributors throughout the UK, discount structures ensuring a profit for all.
The advent of fastener product from Europe in the 1970s destroyed this price stability, creating a competitive and aggressive marketplace.
The remnants of the fastener divisions struggled; and under the pressure of cheaper Italian, Spanish and Japanese fastener imports; one by one they ceased trading or were absorbed into other companies
Fast forward to the mid – late seventies, Bermil had formed a new company, Bermil Fasteners, with the intention of challenging GKN by importing low cost fasteners from Italy and Japan.
GKN are now a UK powerhouse of supply chain management to automotive and aerospace employing around 60,000 people worldwide – Bermil were one of the first companies to challenge their position as the dominant fastener manufacturer in the UK (and possibly Europe).
The growth of Bermil brought challenges, and in the early 1980's ownership was passed from the founder to family members. Unfortunately four years later, Bermil was in receivership.
Fortunately family members had a number of metal bashing businesses and managed to save Bermil by bringing it into the group known as Falcon (Metals / Industries) – In 1984, Kestrel Fasteners was formed out of the ashes of Bermil.
With Kestrel being an importer and wholesaler, other businesses were formed in the hot beds of UK manufacturing such as Mobick Fasteners in the North East. Back in the 1980's there was no such thing as DPD/DHL/TNT etc. so if you wanted to supply the likes of Flymo, you had to be on their doorstep. To avoid conflict with your own customers, it was the norm to set up local businesses which were arm's length to the main import business.
Within three years Kestrel also suffered the same fate as Bermil.
Daniel Gill was based out in New Jersey and, after a successful career building up Wickes depots across the Gulf and east coast of the USA, was looking to return to the UK and buy a business.
Kestrel Fasteners was advertised for sale in the business pages of national tabloids. Before the advent of the internet, if you wanted to sell a company you placed a small advert in a broadsheet newspaper.
Daniel Gill bought the company in 1987 – latterly saying it was the worst commercial decision of his life, as it was only after he assumed "control" that he realised it was a commodity business where the only selling point was "lowest price". The new owners of Kestrel Fasteners Limited were Swift 1805. Carrying on from the Falcon/Kestrel theme – Daniel Gill created "Swift" and signed the documents at 18:05.
Daniel Gill was based in Doncaster, Kestrel was based in St Neots, and Dene who out of the deal had retained a small shareholding was based in Welwyn Garden City. Dan immediately moved Kestral 45 minutes north to Peterborough which made it a commutable distance.
Next, Daniel Gill closed the regional companies and merged all their interests into a new company called Industrial Fasteners International or IFI. IFI was now a key partner to much of the UK OEM manufacturing industry. IFI was formed out of a dormant Limited company (Handinca Ltd) which was purchased in April 1987 and name changed to IFI.
Whilst all the changes were going on, the Scotland office now rebranded IFI Scotland, continued to trade independently as its core business was the off shore oil sector in the North Sea. This had customers buying high margin maintenance fasteners  – this territory was off remit to the Peterborough based sales teams.
Around the same time in 1987, a collegue of Daniel Gill went to a BBQ - literally in the cul-de-sac at a neighbours, who was the production manager at Everest Double Glazing. The colleague persuaded him at that point that "Kestrel" could work with Everest to design and produce a range of high security specialist window screws -which would push Everest right to the front of window fabrication. With the assistance of a Japanese company TOPURA, a complete range of screws both sharp point and spoon point for extrusion of swarf or self-drilling for insertion into plastic and steel were invented.
The drill points differed from general use product used by OEM manufacturing and the insertion time was much quicker. There were no copyrights or IP – but just 10 years after Bermil challenged GKN, Kestrel/Topura brought something completely new to the industry which changed the manufacturing of CPVC Windows and Doors forever. UK competitors eventually copied almost every screw designed. IFI still to this day produce four bespoke Screws for Everest that are not available from any other supplier - this is one of the key points that has maintained the longevity of relationship.
IFI was now supplying institutional UK manufacturing such as: Flymo, Qualcast, Basic, Glen Dimplex, Hotpoint, Cannon Cookers, Fosters Refrigeration, Alpine Aluminium and now, of course, Everest Double Glazing.
In 1988 another subsidiary was formed, Construction Window Products. CWP was technically the fore runner to IFI in its current guise. CWP was set up to service end users and compete with the customers of Kestrel Fasteners selling the range of screws developed with Everest to the end user.
The same sales office was utilised with different colour phones - cream for Kestrel, blue for CWP.
In late '89/'90, the main wholesales business(Kestrel Fasteners) was sold to Jaton Limited, which at the time were owned by the Sangster Family. Daniel Gill sold the whole group Kestrel/IFI/CWP but Jaton, as a gesture of goodwill, gave Daniel Gill IFI/CWP straight back as the IFI/CWP business didn't fit their strategy. The deal had one caveat, being Jaton would review the stock they had inherited and anything they didn't want they would sell back to IFI/CWP. Daniel Gill swiftly employed the staff made redundant by the new owners of Kestrel. IFI Scotland remained with its core off shore business.
In the very early '90's CWP and IFI were merged. As there was still some non-window industry business IFI was chosen as the name. Industrial Fasteners International had long been forgotten about, the three letters IFI has no real meaning however reports from the delivery drivers that they were known as the IFFY Men due to IFI logos on the van and uniform validates it presence.
Through a combination of Daniel Gill contacts from the past and introductions by Everest –IFI were able to add a number of key brands to the range, including Securistyle (which eventually joined forces with ASSA/Yale and Wacker Chemie). Another colleague of Daniel Gill who worked  at FEB Chemicals, was empowered by Wacker to target a UK company capable of promoting their Elastosil brand on an almost exclusive basis. IFI achieved the recognition and were rewarded with exclusive UK rights. This catapulted IFI into the mix as a leading UK stockist of sealants.
Following difficulties in recruitment and still having the IFI Scotland business, the aftersales function was relocated and a newly established team were formed in East Kilbride. The distance from head office proved difficult so this operation was closed down within three years with a sole member of staff relocating to Peterborough.
1998 was the first sight of the Flexible Sprinkler Pipe Connections. Dan was introduced to Alan Stimpson by an ex-colleague – Mike Graham . Following a meeting a few months later it was decided that IFI could move "anything". If it was in a box or on a pallet, the machine we had built was capable of distributing it. IFI Special Pipe Technologies Limited was formed in 1999. The business was a collaboration between IFI, Alan Stimpson and Mike Graham. IFI SPT was renamed Fivalco Ltd in 2000 and continued to promote products for a couple of years. Alan Stimpson was keen to develop valve sales in the UK, so despite the unit at Manasty Road not being fit or proper for valve storage,  containers of products continued to be transacted up until the start of 2003 where we began the migration to Rutland Business Park primarily to store flexible's and valves. Rapidrop Limited was formed in October 2003
Rapidrop was the first company to gain LPCB (BRE UK) approval for the use of flexible sprinkler connection for use in fire sprinkler systems. By 2005 the Rapidrop market coverage had expanded to include distributors in the UAE, France, Netherlands, Spain and Turkey.
Rapidrop Middle East Trading LLC was established in 2007 and to date the UAE remains the base for our international markets.
Each flexible sprinkler connector requires a sprinkler head, therefore during 2008 Rapidrop designed products, plant and constructed a UK manufacturing facility to produce a range of third party internationally accredited sprinkler heads, the only UK producer / UK owned manufacture of these products.
In December 2010, IFI Group Ltd was renamed Rapidrop Global Ltd – now the main trading company, with trading divisions, IFI and Rapidrop.
The international business continued to grow with the formation of Rapidrop Qatar in August 2011, Rapidrop Inc (USA) in April 2012 and Rapidrop India PvT Ltd in June 2015. With the on set of Brexit, Rapidrop Europe Ltd was established in September 2016, this company supplies all EU customers and includes warehousing in the Netherlands and Poland plus a sales office in Poland. The UK company continues to service not only the UK but also South Africa.
May 2021 saw the groups first acquisition, Flowatch Ltd, a UK manufacturer of a signal monitoring system that not only accommodates change in state signals from the likes of flow switches and valve position signals, but also monitors the status of the circuitry itself. The primary market for this product is the growing UK residential sprinkler market, which Rapidrop can supply the complete package of equipment required by install contractors.
With the changing international landscape and the majority of business transacted now outside of the UAE, Rapidrop International Freezone Ltd was established in December 2022. Based in Hamriyah, UAE, this division now supplies customers across Northern Africa, Eastern Africa, Western Asia, Southern Asia, South-eastern Asia and South America. Rapidrop Middle East Trading LLC remains supplying customers in the UAE.
What a journey, Rapidrop Global Limited now has a truly global presence now with customers in more than 80 countries.