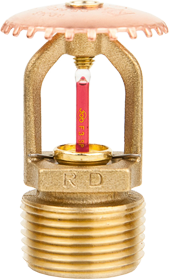 About Rapidrop
Fire protection – the complete solution
Rapidrop is a leading UK manufacturer and supplier of fire sprinkler system products serving the needs of the fire detection and suppression industry worldwide. 
From our headquarters in Peterborough, Cambridgeshire, Rapidrop manufacture fire sprinkler heads to suit commercial applications. Now exporting to over 75 countries', Rapidrop provides tailored solutions and dedicated support from a worldwide sales and distribution network. We are proud to have been involved in many prestigious construction projects both in the UK and overseas. 

Rapidrop have numerous office locations around the world and stock products in warehouses globally, guaranteeing quick delivery to site. Our van delivery service which runs in the UK gives us full control of our delivery process, allowing us to be flexible with deliveries and meeting the needs of our customers.

As part of our commitment to fire safety and protecting lives, Rapidrop invests in research and development conducted at its own state of the art test facilities, one of its kind in the UK. Dedicated to advancement, and reinforcing its position in the market place, we focus on regularly bringing new and innovative products to the market. 

We are passionate about improving fire safety across the globe. Being active members of associations such as BAFSA, EFSN, and ASIB amongst others ensure that Rapidrop are always up to date with the latest industry news and are involved in important decision making, we actively participate in industry-specific approval and council meetings and our opinions are considered valuable to approval bodies.