Sales Director Martyn Curran shares his journey over the last 27 years with the company
Friday 22nd September 2023
Meet our IFI Sales Director Martyn Curran. Joining the IFI team in the early days to support marketing, a decision that resulted in a sales career spanning over 27 years!
 
Martyn shares his journey with Rapidrop Global Ltd as IFI and Rapidrop celebrate anniversaries over the coming weeks.
Name:     Martyn Curran
Job Title: Sales Director
How long have you worked for Rapidrop Global Ltd: 27 years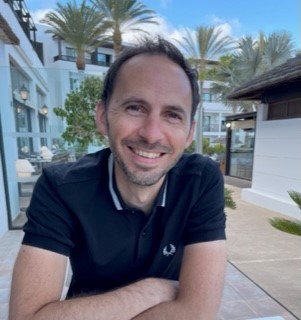 Can you tell us a little about your role/history with the company?
I joined the company back in 1996, originally applying for a marketing support role in order to use my technical drawing skills to support the external sales team with technical brochures! After a few short months (and already seeing that things moved along pretty quickly) I was propelled into internal sales working within a team of four supporting and generating sales across the UK alongside the external sales team.
By 1998 I was out on the road, originally covering the West Midlands and then moving to take on London, Essex and the Home Counties. The area role progressed over time to offering additional support to other external sales managers in the South under the guise of Regional Manager, along with Martyn Willimer who headed up the North.
In 2008 I was offered the chance to join the board of directors and over the years have been involved in many different aspects of the business with both IFI and Rapidrop products.
What's one of your favorite memories while working here?
Honestly I don't think there can be just one. There have been many moments over the years that have put a smile on the face but most of them seem to resort back to travelling. Having to share hotel rooms when we thought we booked two (ask Martyn Willimer), genuinely considering sleeping in the woods when we had no hotel room (ask Mark Smith), being stuck for hours in snow drifts on the motorway because I said "It won't snow" (ask my wife) and being left high and dry in Dubai when a sales agent ran off with our stock and money (I won't mention names!)
When have you felt the proudest at work and why?
Again I can't single out one moment as the proudest. I am proud of what a team of very good people over the years have contributed to make the business what it is today and the part I have played in that. Winning the Business Excellence Awards was also a good moment!
Dan Gill was instrumental in giving a number of us a chance as young, ambitious people and I would like to think we have repaid the faith he put in us.
What do you enjoy most about working at Rapidrop Global?
The variance in the working day, the challenges it can present and the growth in people who want to learn and strive for more. The open door culture that has always been present, I believe helps the company and individuals to thrive.
With IFI reaching 40 years of trading and Rapidrop reaching 20 years, do you have any words of wisdom or special memories you would like to share?
Be open minded and embrace new challenges. Things don't always have a written plan but put yourself forward and have a go, you might be surprised at what can be achieved.
Our company is full of people who have grown and developed by taking the chance and grabbing the opportunity. It is good to walk around and see that on a daily basis.