From sweeping floors to now Group Operations Manager, James Hill has come a long way in 18 years of service
Tuesday 12th September 2023
James began his Rapidrop Global journey in our Scotland office 18 years ago before relocating down to our head office in Peterborough. Moving through the business from the warehouse to now the group operations manager, James shares his story of his time with the group.
Name: James Hill (Jim)
Job Title: Group Operations Manager
How long have you worked for Rapidrop Global Ltd: 18 Years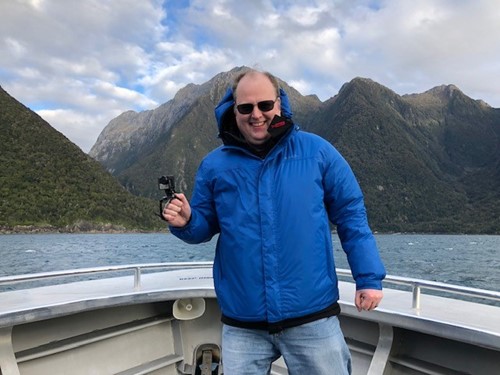 Can you tell us a little about your role/history with the company?
Started in Scotland as a warehouse person/driver. I did that for 3 months however due to lack of work, yes I was that guy with a broom sweeping the same area for 8 hours per day, I was given an opportunity to join the office staff, first job after never working in an office before was sales order loading, I was loading IFI sales orders and manually writing yes you did read that properly, manually writing out return transport shipments and faxing them over to our carrier Asprays, this lasted about 9 months, then the time came when the Scotland office was closed. I was asked to help train the new Peterborough office staff, this was originally planned for 3 months, I was travelling down every Sunday and going back up to Scotland every Friday. I must have done a good job training the new staff I was offered a chance to move down to Peterborough and I am still here 17 years later, soon after I moved down here, I was made the sales desk supervisor then manager, I looked after the IFI sales desk and warehouse for 10 years before becoming group operations manager in 2018. This role included looking after the Rapidrop stock and warehouse operation.
What's one of your favorite memories while working here?
I don't have favorite memories, just, there have been lot more good days then bad.
When have you felt the proudest at work and why?
Helping the company set up two new systems in my time here.
What do you enjoy most about working at Rapidrop Global?
The mixture of work I have to do, from stock control, facilities management, transport & travelling to our 3rd party warehouses.
With IFI reaching 40 years of trading and Rapidrop reaching 20 years, do you have any words of wisdom or special memories you would like to share?
 A little bit of wisdom for newer staff, just keep turning up every day and don't turn down little extra jobs because it is "not your job", I said pretty much yes to everything offered to me because I felt it was best for the company, don't get me wrong it hasn't been all sunshine and roses but I am still here and I have worked my way up to senior management, ask me if I would ever see myself as a senior manager or even being with the same company 20 years ago I would have said not a chance.