Update to Zonecheck circulation pump
Monday 5th June 2023
Following continued product development, there has been an update to the Zonecheck circulation pump. The new pump is physically smaller than the previous model with the inlet to outlet casting remaining the same length and diameter, meaning this can be replaced on older models if the need arises. Additional benefits include improved energy efficiency, simplified electrical installation and easier maintenance. 
The original pump has proven itself to be extremely reliable and has been in service for over 20 years. Based on testing, the latest model will hold a longer life span alongside a more efficient design offering a lower power rating than the previous model. While the performance of both pumps holds similarities, the flow rates are controlled with the use of orifice plates built into the Zonecheck assembly, so functionality remains identical.  The maximum working pressure will also remain the same at 12bar, and a test pressure of 18bar.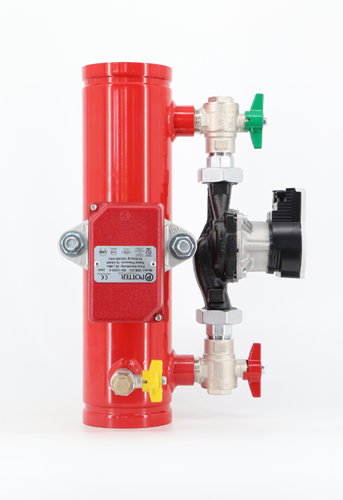 The latest pump model will be supplied with a short fly lead and a male/female connector. The female connector can be removed and then wired (from key-switch into the connector) and then joined back to the male side. The new pump is fully compatible with all key-switches and IMMs (Zonecheck Addressable). 
Offering reduced sensitivity to pockets of air within the water, the new pump model cannot be vented through the motor head due to a different cooling method. Venting will only be required when Zonecheck is installed in a horizontal position and once venting of the pipework has occurred.  
For more information on Zonecheck and to download our datasheets, click here