Continued success as Rapidrop receive Grant Thornton Award
Friday 20th January 2023
Joining the ranks of notorious businesses from around the Cambridgeshire region, Rapidrop Global Ltd have been listed in the 2022 Top 100 companies in the area by Grant Thornton.
Having been featured on the list since 2018, this is now the 4th time appearing on the list for the Peterborough based business, reaching position 57 on the 2022 list.
"It's fantastic to be featured so highly on the list for 2022, it's a reminder of how much the company has grown over recent years and continues to do so." Commented Dominic Ellicott, Financial Director at Rapidrop Global Ltd.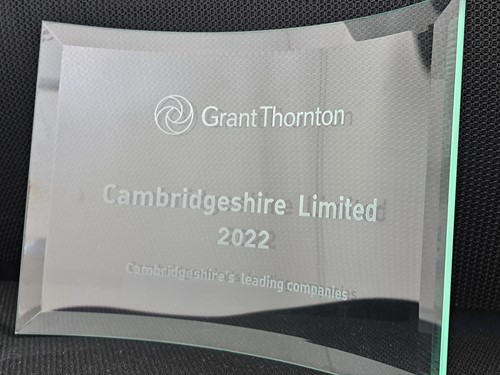 Comprised of three divisions within the business, IFI is where the business first began in 1983 and serves the fenestration industry with manufacturing, installation, and cleaning products for all types of frame fabrication and glass. Joined by Rapidrop, a leading UK manufacturer and supplier of fire sprinkler system products are and serves the needs of the fire detection and suppression industry worldwide. And the most recent addition of FloWatch, a market leading manufacturer of fire sprinkler monitoring and systems equipment.
Following the recent success at the Peterborough Telegraph's Business Excellence Awards where Rapidrop Global ltd took home the Medium Business of the Year 2022 award, this is a great accolade to add to the collection of achievements over the last year.  
Grant Thornton are a Cambridge based firm who conduct an annual analysis of the financial performance of the county's largest companies. Receiving the award from Grant Thornton gives recognition to businesses as well as benchmark to see development.