5 reasons why warehouse sprinklers systems are essential
Monday 21st August 2017
It's an unfortunate fact that fires in warehouses and large single storey buildings are far more frequent than is generally thought. Warehouse fires are both costly and disruptive – damage to property added to loss of stock and business interruption mean that the fires have economic, social and environmental impact on the local area, the wider community and also in many cases on the associated industry.
Did you know…?
One in five warehouses in England and Wales will experience a fire that requires the attendance of firefighters at some point during their lifetime.
The single, largest cause of fires in warehouses is defective electrical installations or equipment.
25% of warehouse fires are started deliberately and one third of these fires occur between midnight and 6am, when there are few staff available to provide any sort of effective response. 
[Source:BAFSA]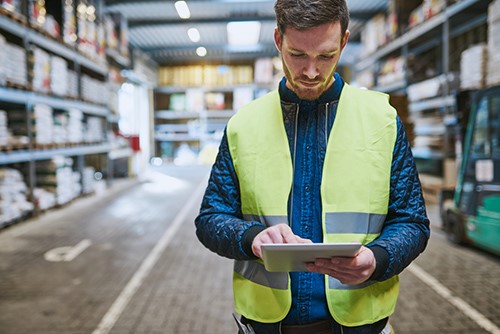 Here, we look at 5 reasons why sprinklers are the most effective way to protect your warehouse from fire.
1. You're protected 24/7
A sprinkler provides reliable detection, alarm (local and remote), and fire suppression at all hours of the day and night, 365 days a year. International statistics show that 97-99% of fires in sprinkler-protected buildings are controlled or extinguished by the systems. The success is in part due to the simplicity of the sprinkler system: there are no computers or wiring – which also means no false alarms.
2. It's an investment that lasts a lifetime
A further benefit of fitting a properly certified sprinkler system is that it will have a very long service life, 50 years is common. This is thanks to strict adherence to standards for components, design and installation. Systems in the UK are most often installed to BS EN12845:2015, an exacting standard which has evolved over the years as technology has changed. The cost of maintenance once systems are installed is extremely low - running to less than £1000 per year for the average system.
3. They could lower your insurance premiums
The fire insurance industry will normally offer significant premium discounts and or lower policy excesses for premises protected by automatic fire sprinklers. This is again thanks to the strict standards in place for sprinkler components, design, installation and third party certification, which add to up a reliable and trusted protection against fire. Where there is an insurance interest, the requirements of BS EN 12845 are often augmented by the need to comply with additional standards (need to speak to one of our experts about this?)
4. Cost benefits and ROI are higher than you might think
The installation of sprinklers should ideally be considered at the start of any building project. Doing so means that developer and business owners can gain a significant return on investment. Sprinklers allow for more freedom of design, more open space, extended fire escape travel distance, and increased density of the overall development. By installing sprinklers, it's also possible to reduce building costs due to a reduction in the requirement for passive fire protection elements. These benefits, combined with the potential savings on insurance premiums and possibility of increasing the sustainability credentials of the building through innovative (and more marketable) design features, could mean a real cost benefit that truly justifies the initial investment in sprinklers.
5. They protect the lives of our firefighters
Fighting a fire can be difficult in a large, open plan single storey building - particularly where high risk materials, such as flammables and toxic chemicals or substances create an added danger beyond the risks usually involved in putting out a fire. The presence of sprinklers ensures that the growth of any fire will be contained (or even extinguished) prior to the arrival of the fire service, allowing safer access for our firefighters.
With so many great reasons to install sprinklers in your warehouse, why not get in touch with the Rapidrop team to see how we can help you get the equipment you need?
What about unnecessary water damage? Sprinkler myths explored here.