RD-FM1510 Dry Barrel Fire Hydrant
| | |
| --- | --- |
| | Size : 5 1/4" |
| Bury Depths | 36" to 72" |
| Working pressure | 250 PSI |
| Working pressure | 250 PSI |
| Working temperature | 0.6 °C to 52 °C. |
| Inlet connection | 6" - Flanged ( ANSI / PN16) or Mechanical Joint |
| Outlet connection | One pump nozzle, 4.5-4NH thread. 2 x 2 1/2" - Landing Valve Connection |
| Material | Cast Iron |
| Finish | Red painted ( Top) / Black Painted ( Underground) |
| Standards | AWWA C502 |
| Approvals | FM approved |
Rapidrop FM1510 Dry barrel hydrants are designed as per AWWA C502.
Rapidrop Dry Barrel Hydrant comes with duck foot bend available in Flanged / Mechanical Joint options. 
Available in Bury Depths from 36" to 72" Safety coupling and flange design reduce traffic damage to the hydrant. Threaded Pumper Nozzle & Hose Connection enables field replacement.
Replacement kit available.
Dimensions
| | |
| --- | --- |
| Size | L |
| 36" | 915 mm |
| 42" | 1067 mm |
| 48" | 1220 mm |
| 54" | 1372 mm |
| 60" | 1524 mm |
| 66" | 1676 mm |
| 72" | 1829 mm |
Material Specification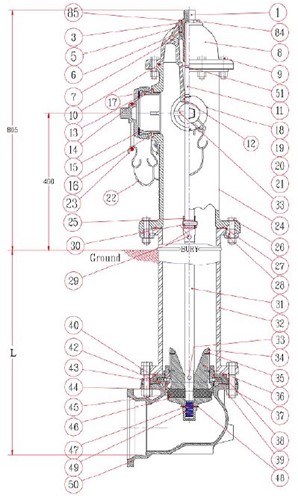 | | | | |
| --- | --- | --- | --- |
| Item No. | Name of Part | Material Specification | Col |
| 1 | Operating Nut | Bronze | ASTM B62 C83600 |
| 3 | Hold Down Nut O-Ring | Rubber | ASTM D2000 BUNA N |
| 5 | Bonnet O-Ring | Rubber | ASTM D2000 BUNA N |
| 6 | Anti-Friction Washer | Celcon | 000 |
| 7 | Oil Plug | Brass | ASTM B16 |
| 8 | Bonnet | Cast Iron ASTM | A126 CL-B |
| 9 | Bonnet bolts & nuts | Steel | ZPS,A307 |
| 10 | Bonnet O-Ring | Rubber | ASTM D2000 BUNA N |
| 11 | Upper Rod | Steel | ASTM A576 Gr-B |
| 12 | Upper Rod O-Ring | Rubber | ASTM D2000 BUNA N |
| 13 | Nozzle lock key | Stainless Steel | ASTM A276 |
| 14 | Pumper nozzle | Bronze | ASTM B62 C83600 |
| 15 | Pumper nozzle gasket | Rubber | ASTM D2000 BUNA N |
| 16 | Operating Nut | Bronze | ASTM D2000 BUNA N |
| 17 | Hold Down Nut O-Ring | Rubber | Iron ASTM A126 CL-B |
| 18 | Bonnet O-Ring | Rubber | ASTM B62 C83600 |
| 19 | Anti-Friction Washer | Celcon | ASTM D2000 BUNA N |
| 20 | Oil Plug | Brass | ASTM D2000 BUNA N |
| 21 | Bonnet | Cast Iron ASTM | ASTM A126 CL-B |
| 22 | Bonnet bolts & nuts | Steel | Plated |
| 23 | Bonnet O-Ring | Rubber | Plated |
| 24 | Upper Rod | Steel | ASTM A126 CL-B |
| 25 | Upper Rod O-Ring | Rubber | ASTM A890 |
| 26 | Nozzle lock key | Stainless Steel | ZPS,A307 |
| 27 | Pumper nozzle | Bronze | ASTM D2000 BUNA N |
| 28 | Safety Flange | Cast Iron | ASTM A126 CL-B |
| 29 | Cotter Pin | Stainless Steel | ASTM A276 |
| 30 | Clevis Pin | Stainless Steel | ASTM A276 |
| 31 | Lower Rod | Steel | ASTM A576 Gr.B |
| 32 | Standpipe Lower(Specify Bury) | Ductile Iron | ASTM A126 CL-B |
| 33 | Stem Pin | Stainless Steel | ASTM A276 |
| 34 | Drain Valve Facing | Plastic |   |
| 35 | Drain Valve Screw | Stainless Steel | ASTM A276 |
| 36 | Valve Top Plate | Bronze | ASTM B62 C83600 |
| 37 | Elbow & D.R.H.Bolts & Nuts | Steel | ZPS, A307 |
| 38 | Drain Ring Housing O-Ring | Rubber | ASTM D2000 BUNA N |
| 39 | Seat Ring O-Ring | Rubber | ASTM D2000 BUNA N |
| 40 | Drain Ring Housing | Ductile Iron | ASTM A536 |
| 42 | Drain Ring | Bronze | ASTM B62 C83600 |
| 43 | Seat Ring | Bronze | ASTM B62 C83600 |
| 44 | Seat Ring O-Ring(Bottom) | Rubber | ASTM D2000 BUNA N |
| 45 | Main Valve | Rubber | ASTM D2000 BUNA N |
| 46 | Valve Bottom Plate | Ductile Iron | ASTM A536 |
| 47 | Cap Nut Seal | Rubber | ASTM D2000 BUNA N |
| 48 | Lock Washer | Stainless Steel | ASTM A276 CL.B |
| 49 | Valve Bottom Plate Nut | Ductile Iron | ASTM A536 |
| 50 | Elbow | Ductile Iron | ASTM A536 |
| 51 | Lubricant (in Chamber)   |   |   |
| 84 | Hold Down Nut | Bronze | ASTM B62 C83600 |
| 85 | Weather Seal | Rubber | ASTM D2000 BUNA N |