CVF300 Resilient Seat Swing Check Valve (Flanged)
| | |
| --- | --- |
| Size range | 50mm - 300mm (2" - 12") |
| Body type | Flanged |
| Maximum working pressure | 20.7 bar (300 psi) |
| Working temperature | -10°C to 120°C (14°F to 248°F ) |
| Material | Ductile Iron |
| Standards | AWWA C508 |
| Approvals | FM Approved, UL Listed |
Rapidrop Fig. CVF 300 Resilient Seat Check Valve is a rubber faced, flanged swing type check valve that allows water flow in one direction only.
A hinged clapper remains open with water flowing in one direction, and automatically closes when flow stops preventing backflow.
Removable cover allows easy access for inspection and maintenance. These valves are suitable for installation in both horizontal and vertical (with the flow upwards) pipelines.
Standards AWWA C508, Clear Waterway
Connections
EN1092-2 PN10/PN16
ANSI B16.1 Class125
Maximum Working Pressure 20.7 bar (300 PSI)
Temperature -10°-120°C
Coating Fusion Bonded Epoxy Coating In accordance with ANSI / AWWA C550
Dimensions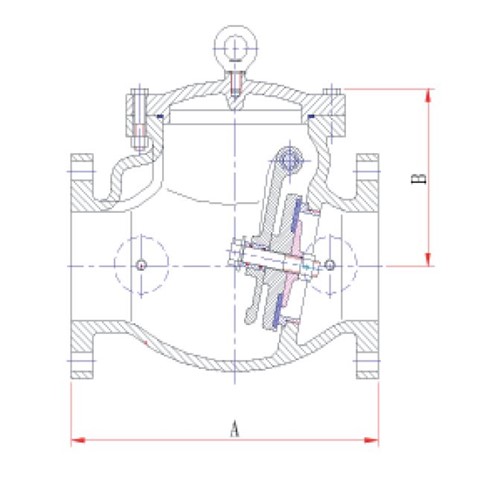 Sizes
Dimensions (mm)
In
mm
A
B
2"
DN 50
203
127
2.5"
DN 65
254
140
3"
DN 80
279
146
4"
DN 100
330
171
5"
DN 125
356
203
6"
DN 150
406
222
8"
DN 200
495
267
10"
DN 250
559
311
12"
DN 300
660
343

Material Specification
| | | |
| --- | --- | --- |
| Description | Material | Specification |
| Valve Body | Ductile Iron | A536 65-45-12 |
| Cover | Ductile Iron | A536 65-45-12 |
| Gasket | EPDM | Commercial |
| Clapper Arm | Ductile Iron | A536 65-45-12 |
| Disk | Ductile Iron | A536 65-45-12 |
| Retainer Washer | Bronze | B62 |
| Hinge Pin | SS304 | AISI304 |
| Plug Washer | PTFE | Commercial |
| Seat Ring | Bronze | B62 |
| O-Ring | PTFE | Commercial |