302 ANSI Swing Check Valve (Flanged)
| | |
| --- | --- |
| Size range | 50mm - 300mm (2" - 12") |
| Body type | Flanged |
| End connections | ANSI |
| Maximum working pressure | 20.7 bar (300 psi) FM approved, 20.7 bar (300psi) UL listed, 25.0 bar (362 psi) LPCB approved |
| Working temperature | 0°C to 80°C (32°F to 176°F ) |
| Body material | Ductile Iron |
| Approvals | FM and LPCB Approved, UL Listed |
Rapidrop Fig. 302 is a rubber-faced, flanged swing type check valve that allows water flow in one direction only.
A hinged clapper remains open with water flowing in one direction and automatically closes when flow stops preventing backflow.
Removable cover allows easy access for inspection and maintenance.
These valves are suitable for installation in both horizontal and vertical (with the flow upwards) pipelines.
Rapidrop Fig. 302 flanged swing check valve is only available with ANSI 125/150 flanges.
Applications
Potable water, sewage disposal, water distribution service & feed lines, irrigation and fire protection pipe systems
Connections
ANSI 125/150 Flange to ASME B16.1
Dimensions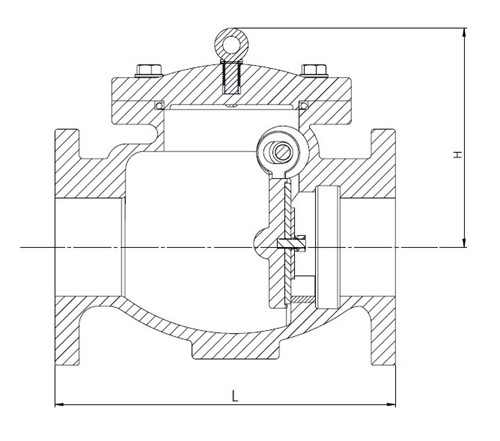 Sizes
Dimensions (mm)
Weight
(Kg)
Inch
mm
L
H
2"
DN 50
203
113
11.2
2.5"
DN 65
254
150
16.7
3"
DN 80
278
160
22.5
4"
DN 100
330
218
34.9
6"
DN 150
406
290
65.2
8"
DN 200
495
330
120.7
10"
DN 250
622
350
180.9
12"
DN 300
660
376
242.3

Material Specification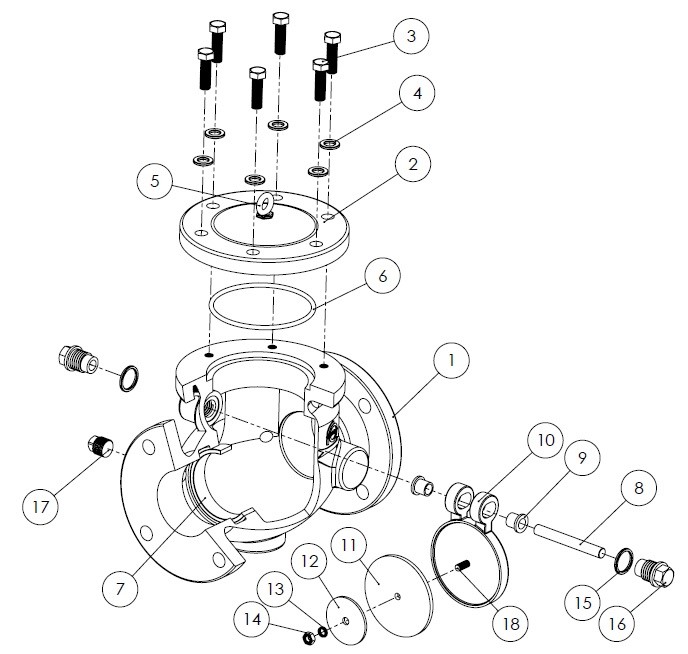 No
Description
 
No
Description
 
1
Valve Body
Ductile Iron 65-45-12
10
Clapper Arm
Ductile Iron 65-45-12
2
Cover 
Ductile Iron 65-45-12
11
Clapper Gasket
EPDM
3
Bolt

Carbon Steel Zinc Plated


12
Retaining Disc
Ductile Iron 65-45-12
4
Washer
13
Spring Washer
SS304
5
Eye bolt
14
Nut
SS304
6
O-ring
NBR /EPDM
15
Washer
Nylon
7
Seat Ring
Bronze C83600
16
Plug
Carbon Steel Zinc Plated
8
Hinge Pin
SS304
17
Drain Plug
Copper Alloy
9
Hinge Bushing
Brass C36000
18
Stud
SS304