216 Butterfly Valve (Grooved)
| | |
| --- | --- |
| Size range | 50mm - 300mm (2" - 12") |
| Body type | Grooved |
| Working pressure | 20.7 bar (300 psi) FM, 20.7 bar (300 psi) UL, 16.0 bar (232 psi) VdS |
| Working temperature | 0°C to 80°C (32°F to 176°F) |
| Body material | Ductile Iron |
| Shaft material | Stainless steel |
| Flying Lead | 1 meter |
| Approvals | FM Approved, UL listed, VdS, Gost |
Rapidrop Figure 216 Grooved Butterfly Valve is a rotary type valve with a visual indication of whether the valve is in a fully open position or not. Butterfly valves are commonly used in fire protection systems as system control valves, sectional or pump water control valves.
These valves have been designed with minimum flow restriction and pressure loss when in a fully open position. To reduce the risk of a water hammer Rapidrop Butterfly Valves are provided with a slow close hand wheel operated gearbox.
Valves supplied as standard with a 1m flying lead.
Dimensions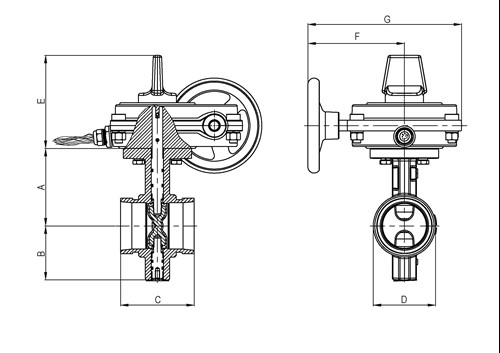 Size
Dimensions (mm)
Weight (kg)
inch
mm
A
B
C
D
E
F
G
2"
DN 50
89
65
81±1.5
60.3
123
127
202
8.0
2.5"
DN 65
102
71
97±1.5
73.0
123
127
202
8.6
2.5"
DN 65
102
71
97±1.5
76.1
123
127
202
8.6
3"
DN 80
109
81
97±1.5
88.9
123
127
202
9.2
4"
DN 100
128
95
116±1.5
114.3
123
127
202
10.7
5"
DN 125
141
111
148±1.5
139.7
123
127
202
13.7
6"
DN 150
153
133
148±1.5
165.1
123
127
202
18.1
6"
DN 150
153
133
148±1.5
168.3
123
127
202
18.1
8"
DN 200
184
164
133±1.5
219.1
123
185
260
22.7
10"
DN 250
216
196
159±1.5
273.0
123
185
260
33.7
12"
DN 300
254
226
165±1.5
323.9
132
203
298
48.6

Material Specification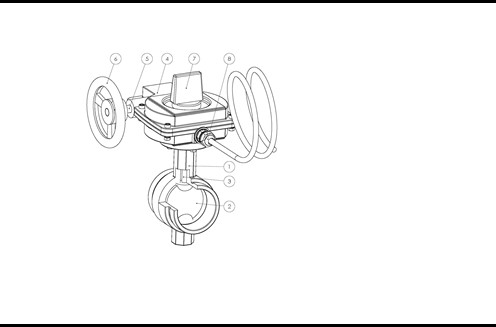 | | |
| --- | --- |
| Description | Materials |
| Valve Body | Ductile Iron |
| Disc | Ductile Iron + EPDM |
| Stem | Stainless Steel |
| Gearbox | Ductile Iron |
| Handwheel Shaft | SS431 |
| Handwheel | Ductile Iron |
| Indicator | Ductile Iron |
| Cable Gland | Plastic |